Flying Team Lugia Ho-Oh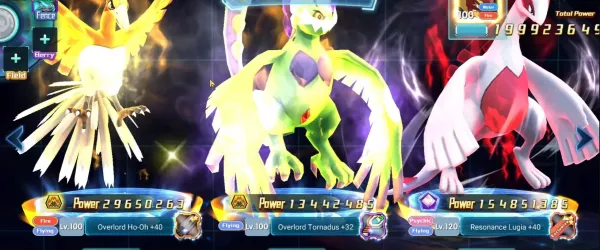 Team Essencial Pokémon:
Overlord or Resonance Lugia
Overlord Ho-Oh
Overlord Tornadus
Teammate Explanation:
Lugia:
It's the main attacker. The passive of Overlord or Resonance Lugia plays a big part in this team, allowing pokémon that use non-attacking skills to move again (Lugia and Ho-Oh's buff).
See Lugia's build here
Tornadus:
Weather buffer, Overlord makes a huge difference. Besides providing all your flying type pokémon alot of damage and defenses with his main buff, it can also make all Flying type pokémon move and make them immune to control with the Z-Buff.
Ho-Oh:
The "saviour". This pokémon is always annoying to deal with, and now with Overlord Tornadus is more than ever. With his Secret Technique lvl30, and Lugia's passive on the field, this pokémon can move up to 3 times, with his Safeguard being one of them, making the whole team unkillable.